P.O. Box 1525 , Nelson , New Zealand
+64 3 546 4501 +64 274 321 515 enquiries@eatright.co.nz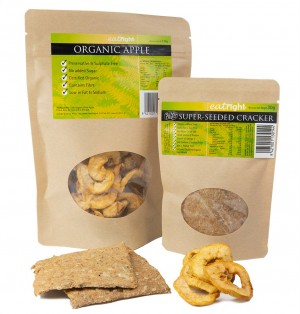 Slow Dried™
The EATRIGHT® range of SlowDried™ foods are less processed. They contain ingredients with locked in moisture content to intensify natural flavours.
Currently, there are two SlowDried™ products:
The EATRIGHT® Super-Seeded Crackers
The EATRIGHT® Organic Apple Rings
New products, currently in development, include dehydrated food and other great tasting food for outdoors, wilderness & adventurers.
The products are minimally processed and are slowly dried to avoid the loss of any individual nutrients which would typically occur from a high heat or cooking process. The slow drying ensures the nutritional balance and integrity of each ingredient is enhanced. The process inactivating the natural enzymes present to ensure preserve the flavours and nutritional quality.
When selecting products for our SlowDried™ range we chose ingredients that are nutrient dense and are whole foods. Hence, the SlowDried™ product benefits include...
Dietary fibre (either a source of fibre or high in fibre)
Healthy fats and no added processed oils (as often can be expected in crackers and energy snacks)
Low carbohydrate, in line with plant sourced principles (high carbohydrate and low fat / saturated fat can typically indicate excess product processing).
Low sodium content and no added salt (whole foods and plant based foods are a great way to decrease sodium intake)
---
The SlowDried™ philosophy
The locked in moisture allows the SlowDried™ products to be nutrient dense and high in quality.
They complement a "plant based" diet as they add fruits, vegetables, legumes and whole grains and are suitable for a vegetarian or vegan diet.
Where possible, the ingredients are local, seasonal and sustainably grown e.g. unique New Zealand medicinal bush pepper and bush basil.
They are fully organic so no pesticides, preservatives or additives.
The slow drying process maintains an excellent shelf life with less deterioration in comparison to overly processed or cooked products.
---
ONLINE SHOP Please visit our online shop to purchase your products.
---