P.O. Box 1525 , Nelson , New Zealand
+64 3 546 4501 +64 274 321 515 enquiries@eatright.co.nz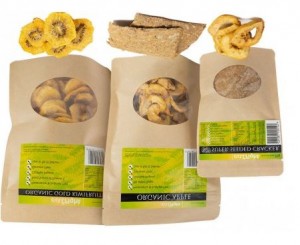 No Added ...
Products in the EATRIGHT (trademark) range are inventive, disruptive and non-conventional. For instance, no traditional grains are used. Instead, we use buckwheat ... a herbaceous plant that belongs to the smartweed family. Hence, EATRIGHT® products are 100% vegetarian, full of plant powered goodness … combinations of seeds, natural seasonings and, in some cases, 100% fruit and/or vegetables.
The products have no added yeast. To us, this is an important commitment to our no genetically modified organisms (non-GMO) EATRIGHT® products and ingredients … and our "beyond nutrition … functional foods" in development products.
You will also find 'clean label' initiatives such as: no sulphites/sulfites/sulphur, no added colour/color, no gums, no free flow agents, no fillers or plumping, no added refined white sugar, no high fructose corn syrup, no fortification with minerals or vitamins needed, are high in fiber, complex carbohydrates and suitable for a natural and less processed diet. And, when you purchase your EATRIGHT (trademark) products, you are not paying for a water weighted product ... they are ingredient-rich products and good value in holistic $/kg or $/lbs or size:weight terms.
Certified organic ingredients are used, whenever possible, so no artificial fertilizers, no artificial pesticides, no artificial flavours and no irradiation.
The EATRIGHT (trademark) Organic Gold Kiwi is unsweetened and soft dried from New Zealand grown, vine patented gold kiwifruit ... in accordance with BioGro internationally recognised and accredited organic standards … so no artificial colour, additives or preservatives. Gold kiwifruit was chosen as it provides a range of naturally occurring vitamins (a great source of vitamins C & E), minerals (potassium in particular), folate, dietary fibre, antioxidants and plant polyphenols … giving it one of the highest nutrient dense profiles in comparison to other fruits. Scientific research also shows that gold kiwifruit have unique, wholefood prebiotic action that supports gut microbiome balance for optimal immune and digestive health (New Zealand Institute for Plant & Food Research Limited).
The EATRIGHT (trademark) certified organic slowdried apple slices can include unique New Zealand patented plant varieties as well as being naturally sweet and soft to eat. And, importantly, it is a "singular" ingredient product so no below threshold oil, sulphites or other stuff.
The EATRIGHT (trademark) Superseeded Crackers have no added oil or salt (unlike many other cracker products); a good source of plant protein; source of omega 3; low in sodium; no raising agents; contains fibre; unhulled, whole, selectively sprouted-activated seeds; include certified organic ingredients and native medicinal horopito.
We have also eliminated raising agents from our cookie products … minimising ingredient quantity, maximising ingredient quality. Because, we don't use "E" number preservatives or desiccants, our products are perishable … so please keep them cool, especially if it is hot and humid ... and refresh by warming slightly in the oven.
No added packaging is also an option available when purchasing EATRIGHT® products via our online shop. All you need to do is select the "buy" button on the products to be purchased, add a note for them to be sent "loose" and they will be delivered in the most minimal, recycled way possible.
Non-GMO (always), Certified Organic Ingredients (where possible) food products
Healthy Snacks; dried fruit, dried vegetables, crackers, energy balls, and bespoke provisions
Not over processed or mass produced; no nasties; worry free
100% vegetarian, 'more benefits in every bite' goodies
Organic, soft dried gold and green "kiwi" for immunity and gut health
Online e-vouchers now available … a great gift or use to pre-order seasonal, bespoke products
And no NZ dollar (default currency) website price increases for over a decade
---
ONLINE SHOP Secure payment, 1-2 day delivery (NZ), no minimums, FREE shipping on orders over $49, satisfaction guarantee
---
"Love your organic gold kiwi fruit". Lucy
"Thank you for my order, it arrived in perfect condition ... I was going to share them, but not sure if I can". Jackie, Bay of Islands