P.O. Box 1525 , Nelson , New Zealand
+64 3 546 4501 +64 274 321 515 enquiries@eatright.co.nz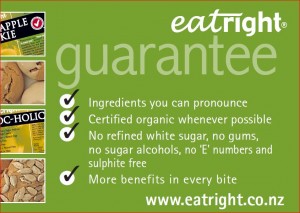 Product Standards
The EATRIGHT® range of dried fruit and vegetables, snack food, cookies, crackers and customer specific products are ideal for those who choose a natural and less processed diet.
And, because we believe it is critically important to eliminate chemicals and pesticides from our products, we use certified organic ingredients (third party certified organic by Bio-Gro New Zealand (IFOAM approved)) whenever possible.
Third party verification organisations are also used for our labeling compliance, nutritional information and product claims, MPI Level 3 food safety program audited by an International Accreditation NZ (IANZ) inspection body and global trade standard bar codes (GS1) ... which enables us to guarantee the safety and authenticity of the products we produce.
We also take pride in using trusted New Zealand GE free ingredients such as butter from pasture-raised grass-fed cows, organic native bush honey with a high percentage of the therapeutic Manuka honey and products such as organic dried apples with unique NZ plant patented varieties.
As our innovative networks expand, we are excited to be able to offer a greater diversity of EATRIGHT® more benefits in every bite, nutrient dense collaborative products. Some of these products are for the outdoor adventurer, ration-packs, and/or in bulk quantities... so may not to be shown in our online shop. Please contact us for more information.
Natural, safe, GE / GMO free and Certified Organic Ingredients used when possible
Healthy Snacks - dried fruit-vegetables, cookies, crackers and custom products
Not over-processed or mass produced; no nasties; worry free
"Great tasting!", unique attributes ..."more benefits in every bite"
New season organic air-dried green kiwifruit for gut health
Best sellers = EATRIGHT® Organic Kiwifruit & Apple packs, Choc-holics Cookie (65% less sugar, high in fibre)
Food parcels for family or friends around the world - FREE shipping on orders >$49
Recyclable friendly and/or bio-compostable packaging
Rethinking ways to preserve essential micro-nutrients and minimize food waste
---
ONLINE SHOP Secure payment, 1-2 day delivery (in NZ), no minimums, FREE shipping on orders >$49, satisfaction guarantee
---
Please let us know if you would like copies of any of our product standards and safety regulatory certificates to be sent with your order
New Zealand Foods Safety Authority (NZFSA) National Program Level 3 Registration
Product specific organic certificates
Product safety record and HACCP plan
Barcode verification reports from GS1 - a "neutral, not-for-profit" organisation
Microbiological tests and fresh clean water standards
Trademark registrations
We can even send you copies of older compliance or supporters guides if you would like. These include the Greenpeace GE Free Product Guide, the Heart Foundation Tick Program, the Manufactured Food Database (Auckland Hospital, Nutrition Services), Coeliac Society of New Zealand, Soil and Health Association and NZ Vegetarian Society Inc .
Eat Right Foods Ltd would also like to acknowledge the help and support of various New Zealand Government organisations over the years. These include New Zealand Trade and Enterprise (and its predecessor TradeNZ), the Callaghan Institute (and its predecessor Technology New Zealand) and, more recently, the Riddet Institute.
"the new packaging is great and takes up less space" Jennifer, Auckland

"Thank you! The kiwi is very sweet with a nice mild kiwi flavour" Jon, Berkeley

"We received rave reviews … with some people naming it the best product at the Food Show" Bio-Gro New Zealand