P.O. Box 1525 , Nelson , New Zealand
+64 3 546 4501 +64 274 321 515 enquiries@eatright.co.nz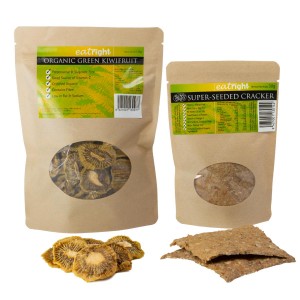 Gut-Gluten Sensitive
Digestive health and individual gut responses to foods is an area of significant ongoing evidence-based research due to the link between a healthy microbiome to nearly every facet of health. "You are what you absorb … unlocking of key binders … bio-active nutrition" is an area of research that Eat Right continues to invest significant time and collaborative research.
The EATRIGHT® organic green and gold airdried kiwifruit slices have "unique, wholefood prebiotic action that supports gut microbiome balance for optimal immune and digestive health" (New Zealand Institute for Plant & Food Research Limited).
"Green kiwifruit ... containing the cysteine protease actinidin, degraded gluten ... and could be a natural way to manage gluten-related health disorders – an example of positive food synergy". (Possibility of minimizing gluten intolerance by co-consumption of some fruits by Isuri A. Jayawardana, Carlos A Montoya, Warren C McNabb, Mike J. Boland (Dec '19)).
Or, in other words, EATRIGHT® organic green kiwifruit slices could be a solution to the stigma-health-medical costs associated with the accidental or intentional consumption of small amounts of gluten ... a kiwi-centric breakthrough?
"Research has proposed the possible role of the pathogenic yeast Candida albicans in the onset of Coeliacs disease". (Netherlands Organisation for Applied Scientific Research, Nutrition and Food. Nieuwenhuizen WF, Pieters RM, Knipples LM, Jansen MC, Koppelman SJ; June 21,2003). "Arthritis may also be caused by bacterial, viral or fungal (candida albicans) infection of the joints". (Arthritis Association, Australia)
Hence, EATRIGHT® products have no added yeast and the EATRIGHT® crackers include native New Zealand medicinal bush pepper (horopito). Horopito is a unique New Zealand medicinal herb with high concentrations of polgodial - a powerful active component used to combat yeast infections - and powerful antioxidant flavonoids-quercetin and taxifolin.
Kawakawa is another native New Zealand adaptogen (ie a natural substance used in herbal medicine) available from the EATRIGHT® "custom" range of products. This unique medicinal "bush basil" contains piperine a bioactive alkaloid with gastro-protective properties.
Chicory root fiber is used in the EATRIGHT® Choc-holics Cookies which is a soluble fiber, a prebiotic ... meaning it feeds good bacteria in the gut and aids digestion.
Natural, safe, GE / GMO free and Certified Organic Ingredients used when possible
Healthy snack foods - dried fruit-vegetables, cookies, crackers and custom products
Not over-processed or mass produced; no nasties; worry free
"Great tasting!", unique attributes ..."more benefits in every bite"
New season organic air-dried green kiwifruit for immunity and gut health
Food parcels for family or friends around the world - FREE shipping on orders >$49
Unique barcode prefix (9421001) for simple, non-confusing traceability and improved shopping "search results"
Rethinking ways to preserve essential micro-nutrients and minimize food waste
---
ONLINE SHOP Secure payment, 1-2 day delivery (in NZ), no minimums, FREE shipping on orders >$49, satisfaction guarantee
---
I have just discovered your EATRIGHT® super-seeded crackers - they really are the best thing since sliced bread! Gisela, Nelson
Congratulations on the (Candid) Cookie. I have received my first order and you've done wonders - it's delicious. Thanks for thinking of people who want to keep candida in check, and for making such nice cookie! Alison Cumming, Dunedin