P.O. Box 1525 , Nelson , New Zealand
+64 3 546 4501 +64 274 321 515 enquiries@eatright.co.nz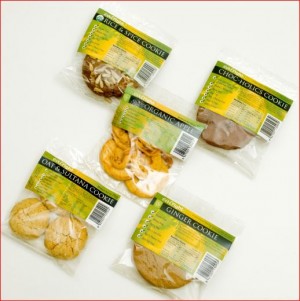 Re-Loved
EATRIGHT® believes in full food utilization as much as possible ... so our dried foods use fruit and vegetables which are not perfect in size, shape or can't quite get to the right brix.
We like to think of it as "re-loved" foods ... using a wide variety of preserving techniques to provide unique product offerings ... and our custom products include "newly rediscovered super foods".
If you enjoy the excitement of rediscovering old favourites you thought were extinct (such as our much loved EATRIGHT® Gingerchoc, Choc-holics and Ginger Cookies) or the thrill of finding new research supported food synergies … EATRIGHT® food products welcomes your re-love in our food renovation, reinvention journey!
Although it is now fashionable, Eat Right has been using recycled "shipper" boxes for online orders for nearly nineteen years and it's been in our food safety certification since 2003 !!! The product packaging ... which have included initiatives such as potato starch food trays (using a waste by-product), cellophane bags, vegetable oil inks, 100% recycled fiber boxes, paper bags made from 70% recycled paper … will move to fully compostable packaging soon.
And if you are a food stylist, please get in touch … our products love to be included in stylish food and packaging design photos. Debut appearances have included The Artists Table (Nelson, Art, Food & Living), The Healthy Food Guide and even the EcoFest recycled fashion awards!
Of course we would always like to do more … so please let us know if you have any sustainable food production improvement ideas ie ways to reduce food loss, food waste or general waste reduction suggestions. Suggestions have been gratefully received and enacted from the Sustainable Business Network "Product Stewardship Project".
Natural, safe, GE / GMO free and Certified Organic Ingredients used when possible
Healthy Snacks - dried fruit-vegetables, cookies, crackers and custom products
Not over-processed, extruded or mass produced
"Great tasting!", unique attributes ..."more benefits in every bite"
Exciting new season organic air-dried green kiwifruit - good source of actinidin
Food parcels for family or friends around the world - FREE shipping on orders >$49
Recyclable friendly and/or bio-compostable packaging
Rethinking ways to preserve essential micro-nutrients and minimize food waste
---
ONLINE SHOP Please visit our online shop to purchase your products.
---
"Sending to my sister and niece in London … I have been sending them to her periodically since 2012 … It just shows how unique your products are" Meredith, Christchurch

"Thank you for my order, it arrived in perfect condition ... I was going to share them, but not sure if I can". Jackie, Bay of Islands