P.O. Box 1525 , Nelson , New Zealand
+64 3 546 4501 +64 274 321 515 enquiries@eatright.co.nz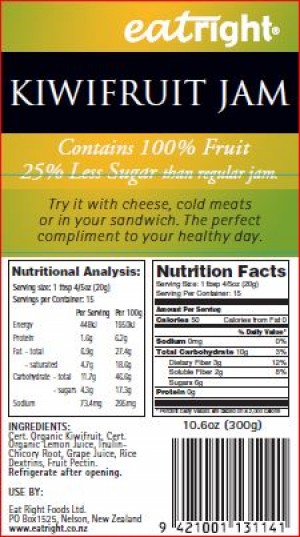 Bespoke Products
The EATRIGHT (trademark) bespoke, designed, and produced products include …
Fruit products, fruit snacks; low glycaemic response, high in fiber, 100% fruit and vegetable jam, jelly, jerky, butter and chip products
Vegetable products; hummus, patties, kumera/potato hash browns, noodles and other plant based vegan, vegetarian, flexitaran products
Cereal and granola products
Trail mixes (without peanuts)
Natural sweeteners; stevia, low GI (glycaemic index) ingredient products
Chocolate with no added sugar
Frozen bread and biscuit dough
Cookies; Savory, Candid, Freebee, Rice & Spice, Flaxseed
Crackers: Bach Bread, Cracker Flats, Corn Thins, Chickpea
Cakes; Oriental Rice, Sticky Date, Nut Corner, Kings Pudding
Seasonal products; gift packs, fruit mince pies etc
Mineral rich nut & seed bar
and other "in process" products with proprietary protection.
Other selectively sourced, catered to individual-personal needs, bespoke NEC products include …
Various flours, seed products eg LSA mix, product mixes, wild harvested botanicals (flowers-petals-leaves)
Various other slowdried, freeze-dried and soft dried fruits, vegetables and kelp
Various non-edible products eg coffee cups, tea towels, hampers, candles etc
Although food innovation can include new products and precision nutrition, it can also mean food renovation, "newly rediscovered super foods", and/or food synergies to rebuild those that were near extinction. More than ever, at a time of endless food fashion and design only thinking, we offer thoughtful, re-thinking, food longevity ... and mentor, consult, "empower" others on an entrepreneurial journey, as numerous others have done for us over the years!
If you are looking for a great gift but unsure what to buy, try our EATRIGHT® online shopping voucher (gift voucher, e-voucher) option. All you have to do is choose how much you would like to spend, select and then purchase the voucher. We will deliver the voucher by email so the recipient can choose what they want and when they want it. And, just like a physical gift voucher, the receiver can spend it all at once or over several deliveries. The e-voucher can also be used to pre-order and pre-pay seasonal or sell-out-fast items. The vouchers also enable you to donate EATRIGHT® products to charities, food banks or schools in need … in a very transparent way. And, if you have a fundraising project, we may be able to help with that too.
Please email us for more information on how to purchase these made-to-order, wholesale, bulk-order-quantity products. Or, if you have a difficult to find product, we can help develop it for you. Out-of-store product samples (eg our super cute, super small food bites) are available by arrangement.
Non-GMO (always), Certified Organic Ingredients (where possible) food products
Healthy Snacks; dried fruit, dried vegetables, cookies, crackers and bespoke provisions
Not over processed or mass produced; no nasties; worry free
100% vegetarian, 'more benefits in every bite' goodies
Organic, soft dried gold and green "kiwi" for immunity and gut health
Rethinking ways to preserve essential micro nutrients and minimize food waste
Online e-vouchers now available … a great gift or use to pre-order seasonal, bespoke products
And a Kiwi currency ecommerce price-hold for over a decade
---
ONLINE SHOP Secure payment, 1-2 day delivery (NZ), no minimums, FREE shipping on orders over $49, satisfaction guarantee
---
"I love the fact you are always trying something new" Supply Chain Manager, Fremont

Searched for dried Apple found Organic Dried Apples *NEW SEASON STOCK* Sho, Auckland