P.O. Box 1525 , Nelson , New Zealand
+64 3 546 4501 +64 274 321 515 enquiries@eatright.co.nz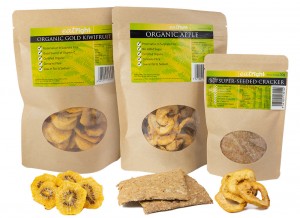 EATRIGHT FOOD PRODUCTS
Natural, safe, GE / GMO free and Certified Organic Ingredients used when possible
Healthy snack foods; dried fruit, cookies, crackers and custom products
Not over processed or mass produced; no nasties; worry free
"Great tasting!", unique attributes ..."more benefits in every bite"
Organic dried green kiwifruit for immunity and gut health
"12 Days of Christmas" gift ideas, overseas orders, FREE delivery >$49
Best sellers; EATRIGHT (trademark) Organic Kiwifruit & Apple Packs, Chocholics Cookies
Unique barcode prefix (9421001) for traceability and improved shopping "search results"
We carefully select, design and produce a few unique functional, natural and less processed foods saving you time, reducing choice overload with no expired product waste ... "whole of food chain" stewardship.
In our "daring to be different" holistic business philosophy, we aim to do a thousand little things in innovative ways, adapting to change at dynamic speeds and celebrate everything that makes us resilient. Our old product labels only told part of the journey, that we need to be "humble", yet share our … less processed, unhulled, whole, selectively sprouted seed blends; native bush honey (including Kānuka); stoneground wholegrain naturally gluten free flours; 70% cocoa mass dark chocolate; >70% certified organic ingredients; GE free, butter from grass-fed cows; native New Zealand herbs … premium quality (EATRIGHT (trademark) dried fruit-vegetables, cookies, crackers, cake and custom products) back story. So thank you, in anticipation, for your patience whilst we make changes, undertake rigorous testing and embrace constraints before sharing insightful developments.
If you have a difficult to source product, excited to rediscover old favourites, enjoy food renovation and frugal innovation ... we will help find or develop it for you … see our custom products page for more information.
---
ONLINE SHOP Secure payment, 1-2 day delivery (in NZ), no minimums, FREE shipping on orders >$49, satisfaction guarantee
---
EATRIGHT (trademark registered) food products are, most often, New Zealand grown or made to extraordinarily strict high quality standards. The evolving range (although always GE free) have been supplied to many different countries and a wide range of traditional and non traditional distribution channels since 2001. As we transform, we are always rethinking ways to supply, repair and value the global food chain system in a thoughtful way ... business, food longevity.
Eat Right Foods Ltd is also a supporter, participant in the New Zealand "Made With Care" collaborative effort; helping exporters share stories around the world about our unique, safe, high nutrient (high sun, low air pollution, few pest-diseases), premium quality, tasty and ethical food products.
Purposeful products, great service, realistic prices and disruptive thinking … available through our secure, responsive website (with more upgrades coming soon). And, as we REALLY value your direct feedback, please email us so we can improve what we do for you ... a real person from our "more benefits in every byte" business will be listening.
"I truly enjoyed your ginger biscuits. Thank you for making tasty, healthy and safe products! Warm wishes" Kim, Boston, USA

"Site very easy to use. This order is for an Australian friend coming over shortly so hopefully she will be encouraged to use this site when she goes". Sheryl, Kaitaia

"We received rave reviews … with some people naming it the best product at the Food Show" BioGro New Zealand