P.O. Box 1525 , Nelson , New Zealand
+64 3 546 4501 +64 274 321 515 enquiries@eatright.co.nz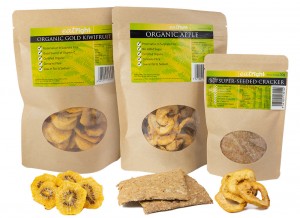 EATRIGHT® FOOD PRODUCTS
Natural, safe, GE / GMO free and Certified Organic Ingredients used when possible
Functional snack foods - dried fruit-vegetables, cookies, crackers and custom products
Not over-processed, extruded or mass produced
"Great tasting!", unique attributes ..."more benefits in every bite"
Exciting new season organic air-dried green kiwifruit - for digestive health
Best sellers = EATRIGHT® Choc-holics Cookie (65% less sugar, high in fibre), Kiwifruit & Apple packs
Food parcels for family or friends around the world - FREE shipping on orders >$49
Recyclable friendly and/or bio-compostable packaging
We carefully produce a few unique, functional foods saving you time and reducing choice over-load in the online shop
If you have a difficult to source product, excited by rediscovering old favourites, enjoy food renovation, we will help find or develop it for you … see our custom products page for more information.
---
ONLINE SHOP Please visit our online shop to purchase your products.
---
EATRIGHT® food products are most often New Zealand grown or made to extraordinarily strict high quality standards. The ever-evolving range (although always GE free) have been supplied to many different countries and distribution channels since 2001. As we transform, we are always rethinking ways to supply the global food chain system in a thoughtful way.
In our "daring to be different" holistic business philosophy, we really appreciate good old fashioned word of mouth referrals and ...
no complicated product auctions
no multi-level marketing
no subscription or membership fees
no (often outsourced) loyalty programs
no artificial data science
… just purposeful products, great service and realistic prices … available through a secure, responsive online shop. And, as we REALLY value your direct feedback, please email us if we can improve what we do for you ... a real person from our "more benefits in every byte" business will be listening.