P.O. Box 1525 , Nelson , New Zealand
+64 3 546 4501 +64 274 321 515 enquiries@eatright.co.nz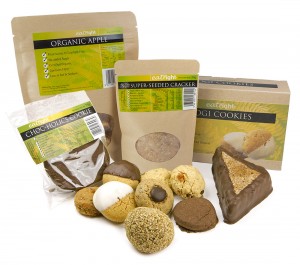 Product Range
The EATRIGHT® range of gluten free, wheat free, dairy free, egg free, nut free, soy free, yeast free, no added sugar and low fat (although not necessarily all at the same time) cakes, cookies, crackers and snack packs for those who choose a natural healthy diet, for people with food allergies, food intolerance, coeliacs disease, diabetes, candida, lactose intolerance, vegetarian / vegan diet, high fibre diet etc.
And because we believe it is critically important to eliminate chemicals and pesticides from our products, we also use certified organic ingredients whenever possible.
As our partnerships expand, we are excited to be able to offer a greater diversity of EATRIGHT® more benefits in every bite, nutrient dense products. Some of these products are customer specific, included in outdoor, wilderness, adventurer ration-packs, meal-kits and/or in bulk quantities... so may not to be shown in our online shop. Please contact us for more information.
---
ONLINE SHOP Please visit our online shop to purchase your products.
---
I ordered some products a while back, just for a trail, and was most, most impressed. Thank you for the great quality products, great service, so prompt home delivery, easy internet order. Wonderful. Happy Customer. Jenni Petersen
Thank you again for having the best allergy free snacks that I have experienced in a long time. Until next time. Cynthia Ti Hon, Marine, USA
I truly enjoyed your ginger biscuits. Thank you for making tasty, healthy and safe products! Warm wishes...Kim, Boston, USA