P.O. Box 1525 , Nelson , New Zealand
+64 3 546 4501 +64 274 321 515 enquiries@eatright.co.nz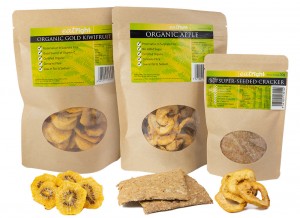 No Added Sugar
All products in the EATRIGHT® range have no refined white sugar, no sulphites, are high in fiber and complex carbohydrates.
Organic Gold Kiwifruit is a recent addition to the EATRIGHT® product range ... a unique air dried product made from 100% Organic New Zealand grown vine patented Zespri™ gold kiwifruit ... in accordance with BioGro internationally recognised and accredited organic standards … so no artificial colour, additives or preservatives.
Gold kiwifruit was chosen as it provides a range of naturally occurring vitamins (a great source of vitamin C E), minerals (potassium in particular), folate, dietary fibre, antioxidants and plant polyphenols … giving it one of the highest nutrient dense profiles in comparison to other fruits. Scientific research also shows that gold kiwifruit have unique, wholefood prebiotic action that supports gut microbiome balance for optimal immune and digestive health (New Zealand Institute for Plant & Food Research Limited). And kiwifruit has been found to potentially have a beneficial role in sleep because it contains serotonin.
The EATRIGHT® certified organic slowdried apple slices can include unique New Zealand patented plant varietals as well as being naturally sweet and soft to eat.
As well as having no added sugar, the EATRIGHT® Super-seeded Crackers have no added oil or salt, a good source of protein, source of omega 3, low in sodium, contain fibre and include certified organic ingredients
Natural, safe, GE / GMO free and Certified Organic Ingredients used when possible
Healthy Snacks - dried fruit-vegetables, cookies, crackers and custom products
Not over-processed, extruded or mass produced
"Great tasting!", unique attributes ..."more benefits in every bite"
Exciting new season organic air-dried green kiwifruit - good source of actinidin
Recyclable friendly and/or bio-compostable packaging
Rethinking ways to preserve essential micro-nutrients and minimize food waste
---
ONLINE SHOP Please visit our online shop to purchase your products.
---
Love your organic gold kiwi fruit. Lucy, address unknown !!!
Thanks so much for the taste of Spring! I was thrilled to walk in to my office and see some eat right dried Kiwi. It is so tasty and what a great sweet treat to have instead of nasty refined sugar.