P.O. Box 1525 , Nelson , New Zealand
+64 3 546 4501 +64 274 321 515 enquiries@eatright.co.nz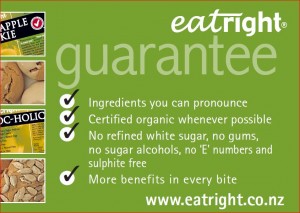 Custom Products
EATRIGHT® has developed numerous unique attribute products over the years ...
Fruit products - low glycaemic response, no added sugar, high in fiber, 100% fruit and vegetable jams/jelly; slowdried and air dried fruits
Vegetable products - hummus, patties and other plant based diet products
Cereal and granola products
Various flour and seed products
Natural sweeteners - dried fruit only products, stevia, native New Zealand bush honey, liquid carbohydrate based products
Chocolate - no added sugar
Herb and spices - Horoptio, Kawawa, Harakeke, chicory, spices and mixed spice
Frozen bread and biscuit dough products
Seasonal products - gift packs, Christmas mince etc
... innovative and custom packaging solutions have also been developed ... so please contact us to purchase and/or re-purpose what already exists.
For more information or product samples, please contact us at enquiries@eatright.co.nz.
---
ONLINE SHOP Please visit our online shop to purchase your products.
---
"happy to be carrying a less processed fruit in our rations room. We have a sign in our room that talks about you all as well, hoping to spread the word about your awesome products". Katie, Arizona, USA
"I love the fact you are always trying something new" Supply Chain Manager, Fremont, USA