P.O. Box 1525 , Nelson , New Zealand
+64 3 546 4501 +64 274 321 515 enquiries@eatright.co.nz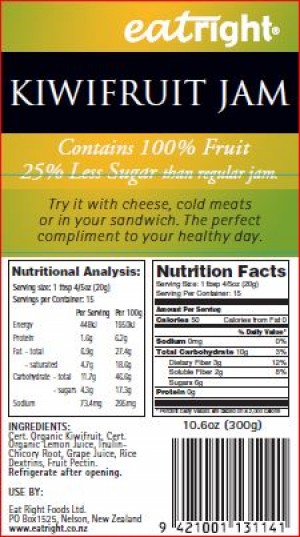 Custom Products
If you have a difficult to source product, perhaps because it doesn't exist yet or doesn't include organic and GE Free ingredients, we will endeavour to find it for you or use our product development skills to make it. To give you some idea of what we can do, EATRIGHT® has produced ...
Fruit products - low glycaemic response, no added sugar, high in fiber, 100% fruit and vegetable jams/jelly; slowdried and air dried fruits
Vegetable products - hummus, patties and other plant based diet products
Cereal and granola products
Various flour and seed products
Natural sweeteners - dried fruit only products, stevia, native New Zealand bush honey, liquid carbohydrate based products
Chocolate - no added sugar
Herb and spices - Horoptio, Kawawa, Harakeke, chicory, spices and mixed spice
Frozen bread and biscuit dough products
Seasonal products - gift packs, Christmas mince etc
Mineral rich nut & seed bar
and others ...
Although food innovation can include new products, it can also mean food renovation, product rediscovery and/or food synergies to rebuild those that were near extinction. More than ever, at a time of endless food fashion, we offer thoughtful food re-purpose and regeneration ideas.So please contact us to find-develop that hard to find product or maybe re-purpose what already exists.
Natural, safe, GE / GMO free and Certified Organic Ingredients used when possible
Healthy Snacks - dried fruit-vegetables, cookies, crackers and custom products
Not over-processed, extruded or mass produced
"Great tasting!", unique attributes ..."more benefits in every bite"
Exciting new season organic air-dried green kiwifruit - good source of actinidin
Food parcels for family or friends around the world - FREE shipping on orders >$49
Recyclable friendly and/or bio-compostable packaging
Rethinking ways to preserve essential micro-nutrients and minimize food waste
For more information or to be sent product samples, please contact us at enquiries@eatright.co.nz.
---
ONLINE SHOP Please visit our online shop to purchase your products.
---
"I love the fact you are always trying something new" Supply Chain Manager, Fremont, USA
"Googled for dried Apple" found Organic Dried Apples *NEW SEASON STOCK* Sho, Auckland