P.O. Box 1525 , Nelson , New Zealand
+64 3 546 4501 +64 274 321 515 enquiries@eatright.co.nz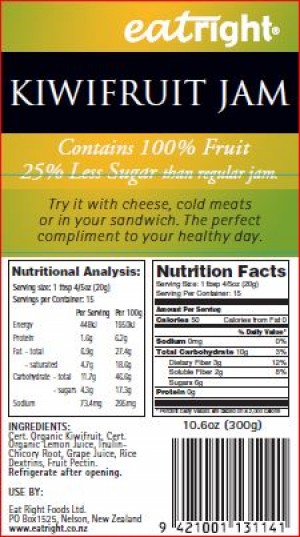 Custom Products
If you have a difficult to source natural and less processed product, perhaps because it doesn't exist yet or doesn't include organic and GE Free ingredients, we will endeavour to find it for you, use our product development skills to make and/or collaborate.
To give you some idea of what we can do, EATRIGHT (trademark) has designed and produced ...
Fruit products; low glycaemic response, high in fiber, 100% fruit and vegetable jam, jelly and jerky products
Vegetable products; hummus, patties, noodles and other plant based vegan, vegetarian products
Cereal and granola products
Natural sweeteners; dried fruit only products, stevia, native New Zealand bush honey (including Kānuka), fibre, liquid based products
Chocolate; no added sugar
Frozen bread and biscuit dough
Cookies; Savory, Candid, Freebee, Colostrum etc
Seasonal products; gift packs, Christmas mince etc
Mineral rich nut & seed bar
and other "in process" products with proprietary protection.
We have also selectively sourced and produced ...
Various flour and seed products; pinot noir flour, kiwifruit seeds etc
Herbs and adaptogens; chicory root, native New Zealand herbs (now respectful of recent IGC registration)
Various slowdried, freeze-dried and air-dried fruits and vegetables
Although food innovation can include new products, it can also mean food renovation, "newly rediscovered super foods", and/or food synergies to rebuild those that were near extinction. More than ever, at a time of endless food fashion and design only thinking, we offer thoughtful food longevity ... and mentor, consult, contract others on an entrepreneurial journey, as numerous others have done for us over the years!
Please email us for more information.
Natural, safe, GE / GMO free and Certified Organic Ingredients used when possible
Healthy Snacks; dried fruit, dried vegetables, cookies, crackers and custom products
Not over processed or mass produced; no nasties; worry free
"Great tasting!", unique attributes ..."more benefits in every bite"
New season organic dried green kiwifruit for immunity and gut health
Christmas Pre Orders for overseas certainty FREE delivery on orders >$49
Unique barcode prefix (9421001) for traceability and improved shopping "search results"
Rethinking ways to preserve essential micro nutrients and minimize food waste
---
ONLINE SHOP Secure payment, 1-2 day delivery (in NZ), no minimums, FREE shipping on orders >$49, satisfaction guarantee
---
"I love the fact you are always trying something new" Supply Chain Manager, Fremont

Searched for dried Apple found Organic Dried Apples *NEW SEASON STOCK* Sho, Auckland