P.O. Box 1525 , Nelson , New Zealand
+64 3 546 4501 +64 274 321 515 enquiries@eatright.co.nz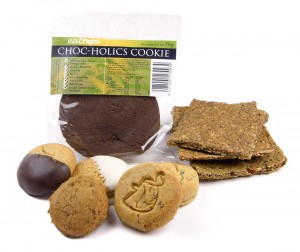 Gluten & Wheat Free
Suitable for Coeliacs / Celiacs.
"One in 10 people have excessive gluten levels, responsible for not just gut problems but nerve and skin issues, migraines and even depression" according to Dr Rodney Ford a Christchurch based Allergy and Nutrition expert.
Coeliacs disease affects 1 in 85 (or 1.2%) of the adult population. Adult coeliac disease: prevalence and clinical significance (Cook HB, Burt MJ, Collett JA, Whitehead MR, Frampton CM, Chapman BA). While many people will be only mildly affected, some have significant symptoms and an extreme intolerance causes coeliac disease.
"Many parents of Autistic Spectrum children report improvement on a gluten free diet. This is where Eat Right Foods can help." Jen Birch, author of "Congratulations! It's Asperger Syndrome" (a common form of Autism). www.aspergers.co.nz
---
ONLINE SHOP Please visit our online shop to purchase your products.
---
Thank you for the best gluten free cookie on the US international market. Michael Wulftange, San Jose, USA
My 2 1/2 yr old grandson was diagnosed with autism early this year. He is intolerant to a large number of foods and we have found that his autistic symptoms are greatly reduced by keeping him entirely gluten, soy and dairy free. He absolutely loves the candid and freebee cookies and we really appreciate being able to offer him a candid or freebee treat, especially when he is with other children and they are having biscuits. Your biscuits have assisted us to make his diet more manageable and more enjoyable. Thank you for your excellent products Michelle Beavan, Hamilton (extremely grateful grandmother!)
Finally, I have eaten my way through all your lovely foods! I have to say that on past experiences, foods promoted as gluten free (in particular) and promising to be free of various additives have proven almost inedible, so it was initially with some trepidation I tried yours! But one bite into the first sample my conclusion was 'My God! These ACTUALLY taste like great food!' Full marks for overcoming the healthy food must be awful mantra of your competitors!!! Natural Products Magazine
We do love your (EATRIGHT®) cookies. They have been a real treat for Kees since his recent diagnosis with 'mild' autism. Our place isn't worth being in, if we accidentally run out of them! Shane Cortese, Outrageous Fortune