P.O. Box 1525 , Nelson , New Zealand
+64 3 546 4501 +64 274 321 515 enquiries@eatright.co.nz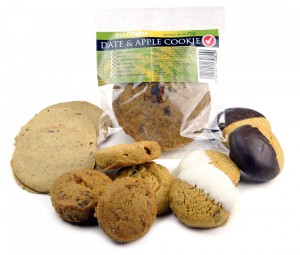 Egg Free
Intolerance to eggs is reported to occur in about 0.5% of the population. Egg white contains a number of proteins (egg ovalbumin, ovomucoid, conalbumin), which are known to cause allergic reactions. (Allergy New Zealand)
Most EATRIGHT® products are egg free and suitable for those on a plant based, vegetarian diet. Three products (Energy Balls, Date+Apple, Choc-holics Cookie) are also suitable for vegans:
Eat Right Foods is a proud sponsor of World Vegetarian Day 1st October.
---
ONLINE SHOP Please visit our online shop to purchase your products.
---
BINGO! I have just tried your Yogi Cookie and the taste is delicious, the texture is pleasant. Well done. From the fussiest, most particular biscuit eater you can find. You had better believe it - I have a dim view of most biscuits available. They just don't cut it for me - but this one I would buy. Nanuje Bourke, Auckland